Home
Contact Us
Visitor Information
Exhibits
Calendar
Membership
News
Museum Shop
Job Opportunities
Become a Volunteer
Education Programs
Collections
Related Links
Brown University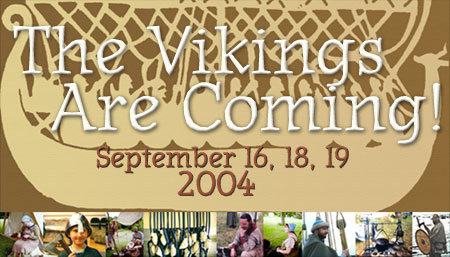 Step back in time with the Haffenreffer Museum to experience daily life in the Dark Ages!
On-Campus Lecture: Thursday, September 16, 5:15 p.m.
"Sorcery and Sorcerers in Viking Age Scandinavia"

Annmary Brown Memorial Building, 21 Brown St., Brown University
The Haffenreffer Museum's Viking Encampment Weekend on September 18 and 19 kicks off with a free lecture on the Brown University campus. As part of The Rhode Island Medieval Circle Lecture Series, Dr. Neil Price, Associate Professor of Viking and Early Medieval Studies, University of Uppsala (Sweden) presents "Sorcery and Sorcerers in Viking Age Scandinavia." Magic and sorcery fill the pages of medieval Icelandic sagas and ancient Scandinavian poetry that describes life in the Viking Age. However, little archaeological or historical research has been done to explore what this aspect of ritual meant to the people of Viking Age Scandinavia. Professor Price examines the evidence for Old Norse sorcery and the complicated constructions of gender and sexual identity on which it was based. He also presents new archaeological discoveries, including reconstructions of the graves of Viking sorceresses. Admission is free!


Museum Event: Saturday and Sunday, September 18 & 19, 2004; 11 a.m. to 5 p.m.
On Saturday and Sunday, September 18 & 19 from 11 a.m. to 5 p.m., the Haffenreffer Museum of Anthropology invites you to explore a Viking encampment! The Dark Ages Re-creation Company from Ontario, Canada, brings the Viking Age to life on the grounds of the Museum. Enjoy public lectures, re-enactments, and hands-on activities for the whole family. See blacksmiths, weavers, and other craftsmen at work. Try on armor and feel the weight of a Viking sword. Learn about metal casting, weapons, coin minting, Viking games, and more. Admire the agility of Icelandic horses (Sat. only)-the descendants of Viking Age steeds, and get an up-close look at Icelandic sheep (Sun. only). Discover how the Vikings dressed, ate, competed, and used magic as they explored, colonized, and conquered lands from Russia to New England. Plus, children can make their own helmet and shield, carve soapstone, spin wool, and more. Illustrated talks, scheduled on both days, explore the clues that archaeology, history, and literature provide in the search for North America's first European explorers! Talks include: Saturday, September 18


1 p.m. Kevin Smith, Haffenreffer Museum of Anthropology, Brown University,
"The Vikings Move West: Island Hopping from the North Atlantic to New England"
2 p.m. Prof. Rick Russom, English and Medieval Studies, Brown University,
"Real Class in Viking Culture: Sports, Games, and Other Forms of Competition"
3 p.m. Prof. Neil Price, Viking and Early Medieval Studies, University of Uppsala, Sweden,
"Viking Sorcery and Magic"
Sunday, September 19
1:30 p.m. Dr. Michèle Hayeur Smith, Liberal Arts/Art History, Rhode Island School of Design,
"Dress, Adornment, and Identity in the Viking Age"
2:30 p.m. Darrell Markewitz, Dark Ages Re-Creation Company,
"Interpreting the Viking Age Through Public Re-enactments"


Admission is $6/adult, $4/senior, $2/youth (2-15), $2/Brown/RISD, Free to Museum members. Price includes admission to the Museum. In the event of rain, Viking talks and demonstrations will be held indoors! The Haffenreffer Museum of Anthropology is located at 300 Tower Street, Bristol, RI 02809. For directions and additional information, contact us at 401.253.8388 or visit our website at www.haffenreffermuseum.org.

The event is co-sponsored by the Friends of the Haffenreffer Museum and the RI Council for the Humanities.



Home/ Visitor Information/ Exhibits/ Events/ Membership/ News/ Museum Shop
Careers/ Docent Progam/ Ed Programs/ Collections
Related links/ Brown University